About

Star Community Health has access to a community needs assessment that identifies critical health disparities among community residents. These include:
Improving Access to Care
Promoting Healthy Lifestyles/Preventing Chronic Diseases
To continue to meet the needs of our underserved patients and to continue to deliver top quality care in our community health centers, Star Community Health has developed a strategic plan to invest resources in a more comprehensive and unified care delivery system.
Star Community Health Mission, Vision, and Values Statement
I. MISSION
Our mission is to be the leading preventive and comprehensive primary health care provider in Pennsylvania. We are committed to providing services that are patient-focused, high-quality, accessible, and cost-effective. Services will be provided with respect to the social, religious, cultural, and economic needs of the communities we serve. All patients are serviced regardless of ability to pay. Through education, innovation and community partnerships, we will anticipate and exceed the expectations of our patients and communities.
II. VISION
The vision of Star Community Health is to promise to always provide compassionate, comprehensive and culturally competent health care and wellness services to underserved and vulnerable people living in the communities we serve.
III. VALUES
Star Community Health values are to provide high quality care at a reasonable cost with the intent to furnish the greatest satisfaction to the patients and physicians who utilize Star Community Health. Star Community Health focuses on improving the results of health care (including the outcome of care) and judgments about the quality and value of the health care delivered by Star Community Health. We believe there is a relationship between performance, results, and judgment about quality and value. Star Community Health values are enhanced by systematically designing, measuring, analyzing, and improving the organization's functions. The value of patient care depends on the outcome achieved and the resources used.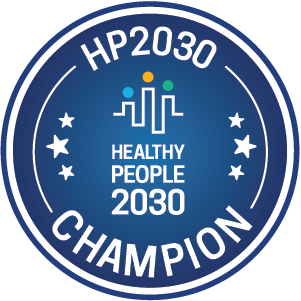 HEALTHY PEOPLE 2030 Champion is a service mark of the U.S. Department of Health and Human Services. Used with permission. Participation by Star Community Health does not imply endorsement by HHS/ODPHP.